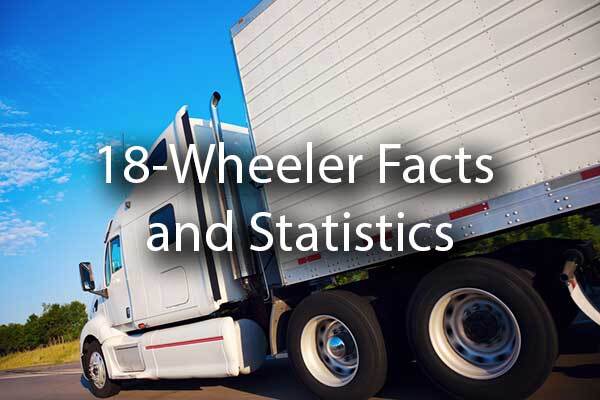 Eighteen-wheelers are the king of the roads. In the United States, about 3 million semi-trucks take to the roads each year. Each of these impressive machines can be anywhere from 70 to 80 feet long and weigh up to 80,000 pounds. Many drivers give them plenty of room, allowing them to get to their destination safely. Unfortunately, 18-wheeler accidents are quite common. Whether due to human error, mechanical failures, or poor road conditions, these accidents are almost always complicated and destructive. Eighteen-wheelers are essential for transporting goods making them an essential part of our nation's economy. This article focuses on the interesting facts and statistics surrounding semi-truck accidents.
A Closer Look at 18-Wheelers
It may seem crazy to think that the first 18-wheeler was created to transport other cars. Alexander Winton, the CEO and founder of The Winton Motor Carriage Company of Cleveland, Ohio, realized he was facing a major problem. Sales for his company's cars were coming in from all around the United States. While this was great for his business, he was faced with the challenge of delivering his vehicles to his customers. While the usual method was shipping the car on a train or driving it to the customer's garage, both of these options proved to be a problem. Delivery by train was not only expensive but it also came with the risk of damage to the car during transport. Driving the vehicle across long distances lowered its value as miles piled up, and rock damage or an accident were always a possibility.
Alexander Winton attached a tractor to the back of a truck, and the ingenuity allowed him to transport one car at a time, thus creating the world's first version of a semi-truck.
Semi-trucks Today
The 18-wheeler has evolved since its clunky ancestor. Now, these machines can carry a lot more than one car and are now responsible for moving goods. From furniture and gasoline to brand new cars and tractor-trailers, 18-wheelers are always on the go.
Here is an overview of what the modern tractor-trailer looks like:
The 18-wheeler's engine has an engine that is 6-times larger and more powerful than the engine you would find in your car. This allows the tractor-trailer the power to tow massive amounts of cargo while allowing it to get to an acceptable speed on our interstates and highways.
Turn Radius
The average 18-wheeler needs at least 55 feet of space to complete a turn. Eighteen-wheelers are equipped with large side mirrors to allow their drivers to see in their blind spots. Drivers of 18-wheelers also need a special license to operate their vehicle, and for good reason. While a tractor-trailer needs 55 feet to make a successful turn, many roads in the U.S. are only 24 feet wide. Drivers need to be experts at backing up and maneuvering, which takes lots of practice.
How Reliant Are We on 18-Wheelers?
The United States is dependent on its truckers to transport goods across the country. According to the National Highway Traffic Safety Administration, 70% of the United State's products are delivered across the United States by 18-wheelers. This can equal out to truckers driving more than 175 billion miles per year.
18-Wheeler Accidents
While we rely on 18-wheelers to ensure that the United States economy can continue to run proficiently, accidents are common. It takes a lot of training to handle these massive machines, and unfortunately, human error, Mother Nature, and mechanical errors create the risk of an accident. The most common types of 18-wheeler accidents include the following:
Rollover Accidents: Speeding or the improper loading of cargo can rollover accidents, which occur when the center of gravity within the truck is upset, causing part or all of the vehicle to roll over.
Jackknife Accidents: Jackknifing refers to when the 18-wheeler's front folds in, like a pocketknife. This can be the result of mechanical failure, improper braking, or poor road conditions such as ice.
Underride Accidents: These accidents occur when a passenger vehicle collides with an 18-wheeler and runs under the trailer. The roof of the passenger vehicle will shear off, instantly killing the occupants. These are usually caused when the driver of the passenger vehicle doesn't see the tractor-trailer turning or slowing down, and they typically occur at night.
Unsecured Load Accidents: These accidents are often the direct result of poor balance or restraining of the cargo, and other causes can be shifting of the load during travel, wear and tear on the restraints. These accidents have the potential to cause significant damage and injury.
Tire Blowout Accidents: These accidents occur when the tire takes so much damage or wear that it loses all of its air at one time or explodes. The vehicle at this point can be extremely difficult to handle. Wrecks can be caused by another vehicle getting hit with the debris from the tire or the loss of control of the tractor-trailer.
Common causes of these accidents can be any of the following;
Driver fatigue
Unsecured cargo
Overloaded trucks
No-training or inadequate training
Poor maintenance or failure to inspect the vehicle
Mechanical failure
Poor road conditions
18-Wheeler Accident Statistics
Here are the latest statistics from the National Highway and Safety Administration Concerning Semi-truck accidents from 2017:
Fatal Crashes
Out of 450,000 police-reported accidents involving 18-wheelers in 2017, there were 4,237 (1%) fatal crashes.
Single vehicle accidents (this includes accidents that involved a bicyclist, pedestrian, or non-motorized vehicle) resulted in 20% of all fatal crashes.
The majority of fatal 18-wheeler accidents involved two vehicles. This accounted for 63% of all fatal 18-wheeler accidents.
35% of all fatal 18-wheeler accidents occurred at night (6 PM-6 AM).
83% of all fatal crashes concerning 18-wheelers happened during a weekday.
Collision crashes were responsible for 74% of all fatal crashes involving semi-trucks.
Rollover accidents accounted for 4% of all fatal crashes involving 18-wheelers
Out of all the work zone related fatalities due to car accidents in 2017, 30% of them involved an 18-wheeler.
91% of fatal 18-wheeler accidents resulted in only one fatality. The majority of these fatalities was not the occupant of the semi-truck (82%).
Injury Accidents
Out of 450,000 police-reported crashes involving semi-trucks in 2017, 344,000 (23%) were injury crashes. Injuries ranged from minor to life-threatening.
Single vehicle accidents (this includes accidents that involved a bicyclist, pedestrian, or non-motorized vehicle) resulted in 15% of all injury crashes.
22% of all injury 18-wheeler accidents occurred at night (6 PM – 6 AM).
88%  of all injury 18-wheeler accidents occurred during the weekday.
Collision crashes were responsible for 81% of all injury 18-wheeler accidents.
Rollover accidents were responsible for 3% of all non-fatal accidents involving semi-trucks.
12% of work zone related injuries due to car accidents involved at least one tractor-trailer.
Other Statistics Concerning 18-Wheeler Accidents
79% of large trucks involved in fatal accidents in 2017 weighed more than 26,000 pounds
Tractor-trailers need at least 40% more time to stop than the average car.
Claiming Compensation for an 18-Wheeler Accident
If you or a loved one has been involved in an accident with a semi-truck, you may be entitled to monetary compensation for damages and injuries. The dedicated and passionate car accident attorneys at the Hernandez Law Group, P.C. is ready to help you on the road to recovery. We don't back down from challenging large trucking companies to take responsibility for the accident.
Our law firm is committed to protecting our clients which is why we offer a no-win, no-fee policy. Allow us to fight to get the compensation you deserve while you focus on healing for you and your family. Contact the Hernandez Law Group, P.C. today for more information and to schedule a free no-obligation consultation.