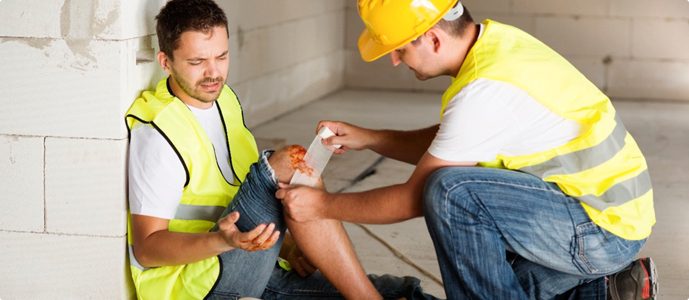 Best Work Injury Attorneys
Every year, hundreds of thousands of workers get hurt on the job in the United States. The Bureau of Labor Statistics reports that 882,730 employees were hurt at work last year – that number accounts for 2.8% of all the workers in the US.
Texas workers face numerous challenges after suffering from workplace injuries. Many are unable to perform their previous job duties or return to work at all. On-the-job injuries may also result in costly medical bills and loss of wages, both of which cause financial hardship for work injury victims and their dependents.
Proving fault when you're injured on the job is tricky, so it's important to speak with a knowledgeable work injury attorney at Hernandez Law Group, P.C. We can help you understand your legal options and determine the best plan of action for your situation.
Workers Compensation Insurance
Workers compensation insurance is intended to provide medical and financial benefits to employees who have been injured on the job. However, the state of Texas does not require private businesses to carry workers compensation insurance. (In fact, Texas is the only state in the US without this requirement). An employer who opts for workers compensation insurance is known as a subscriber, and an employer who opts out is known as a non-subscriber.
Workers Compensation Subscribers
While employers aren't required to carry workers compensation insurance, Texas makes carrying this insurance an attractive option. According to the Workers' Compensation Act of 1993, an employer who carries workers compensation coverage is exempt from employee lawsuits, except in cases of gross negligence on the part of the employer. As for the employees, when a business has workers compensation, it makes it much easier for workers to gain compensation for their injuries.
If your injuries were due to your employer's gross negligence, you deserve additional compensation for your injuries. Even if your employer has workers compensation, don't hesitate to contact us to determine if you deserve additional compensation for your damages.
Workers Compensation Non-Subscribers
If your employer is a non-subscriber, you don't have a streamlined way to receive compensation for your work injuries. However, you have a greater chance of receiving the full compensation for your injuries. Because non-subscribers don't have the same protections from lawsuits that subscribers have, you have a wider range of damages that you can potentially sue for.
It's important to note that non-subscribers don't necessarily have no coverage; employers do have alternative coverage options if they opt out of workers' compensation insurance.
Unfortunately, workers' compensation and alternative plans may not be sufficient to cover all of your work injury-related expenses – especially future medical expenses and loss of future earning capacity. If your employer's plan provides insufficient coverage, a lawsuit may be the best means to receive a fair settlement for your pain and suffering, medical bills, lost wages, and other losses after a work injury.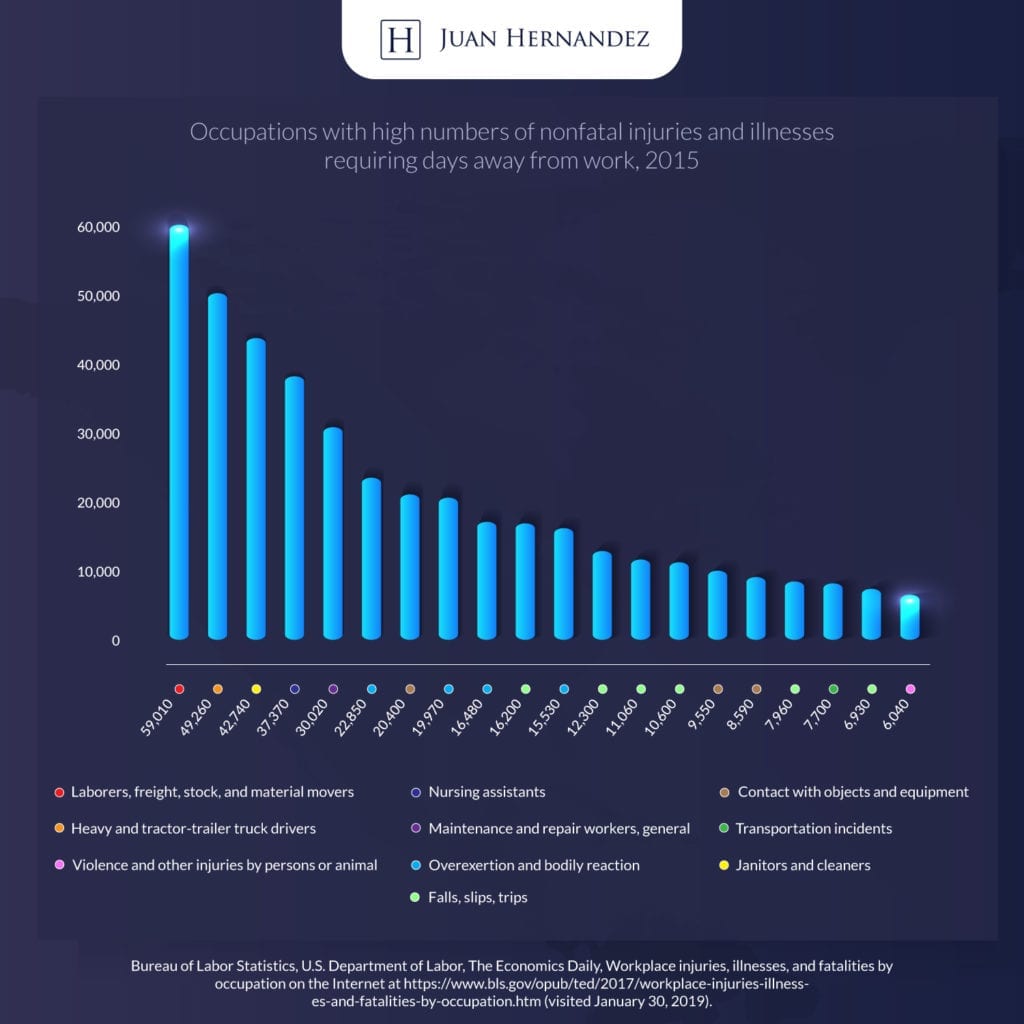 Industries with the Most Injuries Every Year
According to the Bureau of Labor Statistics, these occupations lead to the most injuries every year:
Laborers/material handlers
Semi truck/heavy truck drivers
Cleaners/janitors
Nursing assistants
General maintenance/repair workers
Common Causes of Workplace Injuries
While several conditions may lead to workplace injuries, these are the most common causes:
Overexertion
Trip and falls
Falls from an upper level to a lower level
Being struck by equipment or objects
Compression by equipment or objects
Striking unsafely placed objects or equipment
Repetitive motions
Most Common On-the-Job Injuries
The above causes can lead to a wide range of injuries, from minor to debilitating. The most common workplace injuries are
Strains/sprains;
Herniated/bulging discs;
Traumatic brain injuries;
Hematomas;
Concussions;
Musculoskeletal injuries; and
Broken bones
Wrongful Deaths at Work
According to the Bureau of Labor Statistics, workplace accidents lead to over 5,000 wrongful deaths every year. These deaths leave families devastated and deprive them of future income. With just a few safety precautions from the employer, many of these workplace deaths could have been prevented.
Establishing Liability Against an Employer
Work injury cases are essentially negligence cases. When the employer has workers' compensation insurance, it's difficult to receive compensation for your injuries (beyond what is provided through workers comp) unless you can prove gross negligence on their part.
For employers who are non-subscribers, a lawsuit is often necessary to receive any form of compensation for injuries and other damages. Even if the employer wants to settle out of court, it's important to have one of our personal injury lawyers at your side to make sure that you negotiate a fair settlement.
To receive compensation for your injuries from the employer, you must prove that:
The employer was negligent. An employer may be found negligent if they failed to maintain safe conditions in the workplace, overworked their employees, or otherwise compromised the safety of workers on the job site. To prove that an employer is liable for your injuries, you must first prove their negligence.
You were injured on the job. You must prove not only that the workplace was unsafe, but also that the unsafe conditions led to your injuries. To do so, you must gather evidence of your injuries, prove your financial losses, and prove that you sustained your injuries at the workplace.
In addition to proving that the employer is liable, you must prove that you are not. Obtaining the full compensation you deserve from an employer requires you to prove that:
You weren't intoxicated at the time of the incident. If an employee is high or drunk at the time of their workplace accident, their employer may not be held liable for the accident.
You didn't cause the injury intentionally. An employer might claim that you intentionally hurt yourself in order to get money – a claim that you must prove to be false.
You couldn't reasonably have expected the injury to occur. Some occupations are going to lead to injury by their very nature. For example, a beekeeper could not expect not to ever be stung on the job, and therefore their employer wouldn't be liable for their beestings.
You weren't responsible (or more than 50% responsible) for the incident. In Texas, a defendant generally won't owe damages if the plaintiff is found to be more than 50% at fault for the accident. This is called "comparative negligence." There is an exception for work injury cases, however: comparative negligence only applies in subscriber cases. In non-subscriber cases, an employer can only avoid liability if they can prove that the employee was completely at fault for the accident (known as "sole proximate cause").
Work Injury Lawsuits against Responsible Third Parties
Someone other than the employer is often responsible for work injuries – for example, outside contractors, delivery drivers, or equipment manufacturers. If the negligence of a third party has caused your work injury, you may bring forth a lawsuit against the third party even if you are receiving benefits through your employer's workers' compensation plan. There are also considerations if your injury occurred at a multi-employer worksite, site as a construction site. A qualified workers' compensation lawyer at Hernandez Law Group can advise you on whether this is an option in your case.
Contact Our Work Injury Attorneys
If you have suffered a work injury in the Dallas, Amarillo, or Abilene areas and your employer does not carry workers compensation insurance, or if workers compensation does not adequately cover your injury-related expenses, contact the experienced work injury attorneys at Hernandez Law Group, P.C.
We are experienced at earning clients the full compensation they deserve in non-subscriber cases and proving negligence in subscriber cases. Juan Hernandez is one of the few Texas board-certified lawyers in personal injury law, so you can trust his expertise in your work injury case including: