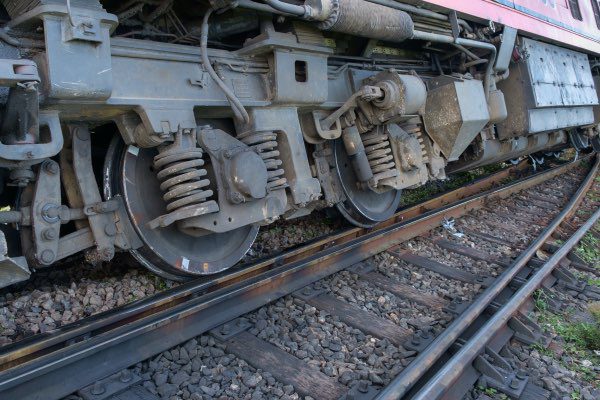 Train and Railroad Accident Attorneys in Dallas, Amarillo, and Abilene, Texas
What comes to mind when you think of a train accident? Perhaps it's a video, uploaded to YouTube or TikTok, wherein a car is stuck on tracks and hit by a train. Or, perhaps you think of the classic picture from an old Western film, with the damsel in distress tied to the tracks, waiting for the hero to save her.
While train accidents don't typically involve criminal masterminds like Hollywood would have us believe, they often do involve vehicles or pedestrians. In most cases, the term railroad accident falls into one of two categories: employees or passengers getting hurt while riding the train, or an accident involving non-railroad employees or passengers. No matter the situation, these accidents often happen in the blink of an eye and have catastrophic results.
Most train accidents involve some degree of negligence, which means the injured party has a right to seek compensation from the liable party. The liable party may be the train manufacturer, a railroad employee or company, or a driver/pedestrian, but whoever they are, the injured party does not have to handle recovery and medical expenses or other damages on their own. The dedicated team of train accident attorneys at the Hernandez Law Group, P.C. can help you hold the responsible party accountable and ensure you get proper compensation for your injuries. Here is more information on our train accident attorney services:
What Are the Most Common Causes of Train Accidents in Texas?
The Federal Railroad Administration (FRA) reported that there were 2,184 highway-rail grade crossing collisions in 2022. These accidents caused 274 fatalities and 774 injuries across the United States. The state of Texas saw the most of these accidents, with 242 collisions, 30 fatalities, and 72 injuries.
Some of the most commonly documented causes of train accidents are as follows:
Speeding Trains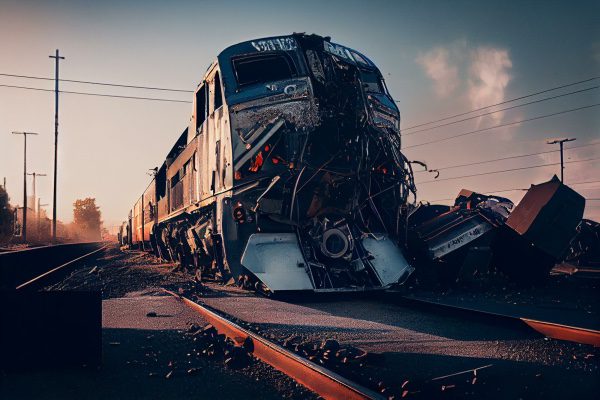 Semi-trucks present a high risk for causing vehicle collisions since they have a much greater braking distance than passenger cars and trucks, making it all but impossible for them to come to a quick stop in traffic. A train's braking distance, however, makes a tractor-trailer's look puny. After the brakes are applied, a train traveling at 55 miles per hour will travel one to 1.5 miles before stopping. As the train goes faster, this stopping distance increases significantly. 
Because of this, trains are legally required to reduce their speed at all railroad crossings and anywhere else vehicles or pedestrians are likely to be crossing the tracks. Conductors who do not heed this lower speed limit can make an accident or derailment a much more likely possibility, especially when they have to slam on the brakes.
Failure to Warn
Drivers or pedestrians who don't realize a train is approaching are far less likely to be able to avoid a collision. For maximum safety, federal law requires train conductors to blare a warning whistle or bells whenever they come to an intersection with a road or highway.
However, many towns have passed noise ordinances restricting train operators' ability to use these alarms during certain times of the day—especially at night when train sounds can be especially disruptive. These ordinances don't always stand up to legal scrutiny, but until or unless a railroad company sues or challenges them, it's often easier for conductors to simply comply.
While requiring train "quiet hours" appeases homeowners who live near a railroad, it can also reduce safety. Trains that are too successful at being quiet when passing through a populated area have a higher risk of hitting someone.
Derailment and Train-on-Train Collisions
Derailments are fairly rare, happening only a few times a year. Despite their infrequency, derailments and train-on-train collisions can be devastating and deadly. Recently, a 2023 train derailment occurred on February 3rd at 8:55 PM in East Palestine, Ohio. Thirty eight cars of the Norfolk Southern Freight Train, which was carrying hazardous materials, derailed due to a mechanical failure. Several of the railcars burned for more than two days. Due to the toxic chemicals being released from these cars, residents within a one-mile radius were evacuated from the area.
Engineer Error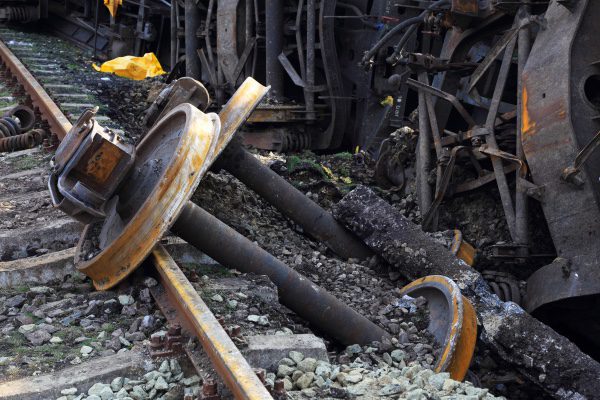 Unfortunately, train engineer errors cause a large number of train accidents. Even the most highly skilled train engineers can make mistakes, and these mistakes often lead to accidents. For example, train engineers who have been working long hours may get distracted or fall asleep on the job. This leads to the train either speeding or failing to slow down at railroad crossings, or the engineer missing vital information about the conditions of the tracks.
Mechanical Failure
As with vehicles on the road, trains need routine maintenance to keep them running smoothly. Maintenance also allows train mechanics to catch parts that may be wearing down due to age or are not functioning properly. Trains are complex pieces of machinery and need to have all of their parts working together for them to function safely.
Failure on the part of the mechanics to ensure that the train's parts are working properly and that defective parts are either replaced or the train is taken out of service until it can be fixed can lead to serious accidents.
What Are the Most Common Injuries From a Train Accident?
Common injuries from train accidents include but are not limited to the following:
Fractured or crushed bones
Amputations
Severe burns, scarring, or disfigurement
Significant lacerations or abrasions
Internal injuries, such as internal bleeding or organ damage
Who Is Liable In Train Accidents?
Depending on the nature and facts surrounding the accident, one or more of the following parties may be responsible:
The railroad company
The train operator
The manufacturer of the train or train components
Track or train maintenance workers
A government entity that owns or operates the railroad
Why Is It Difficult To Establish Fault in a Train Accident?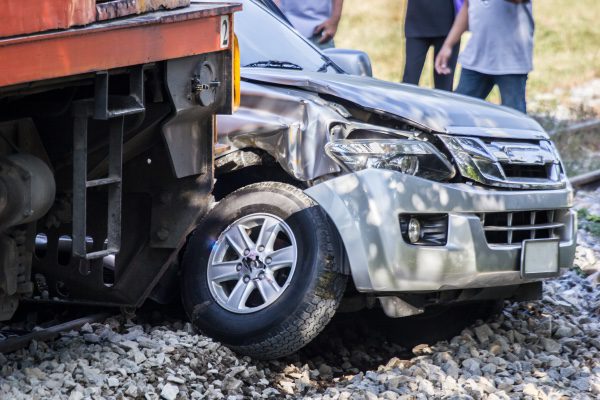 Determining who is responsible for an accident concerning a train can be extremely difficult. There is often not one clear cause for a railroad accident, which makes determining liability more difficult as there are multiple components or parties involved. Those injured in a train accident may believe that the obvious at-fault party is either the train operator or the railway owner. However, if the accident was caused by a defective or malfunctioning train or railway part, the liable party may be the train manufacturer or the manufacturer of that part. 
For a train accident claim to be successful, it is essential to know who the liable party or parties are. Ensuring that you have an experienced train accident attorney on your side is the best way to do this. The team at the Hernandez Law Group, P.C. has the resources needed to fully investigate your case and ensure the success of your claim.
How Can I Improve My Chances of a Successful Train Accident Case?
The best thing you can do to aid in the success of your case and ensure that you get the compensation you deserve is to make sure you have the following:
Police reports of the accident
Any communication with the insurance company regarding the accident
Medical records
Witness statements
Any personally written details that you remembered from the accident
Any photos you were able to get of the accident
How Do Railroad Accidents Affect Workers?
Passengers and individuals in vehicles or pedestrians are not the only people who can be injured in a train accident. Oftentimes, railroad workers may also sustain serious injuries or, in the worst cases, die on the job. In addition to Texas's worker's compensation programs, the Federal Employer's Liability Act (FELA) protects injured railway workers.
FELA requires any injured railway employee to demonstrate or prove that some act or failure to act by the railroad company or another employee contributed to their injuries. 
It is extremely important to note that this is DIFFERENT than the Texas State Worker's Compensation laws. State law does not require an employee prove that the employer was at fault to get compensation—they only need to be able to prove that they sustained an injury to receive benefits.
Railroad worker injuries may not be physical, and can also include:
Exposure to asbestos
Exposure to silica
Exposure to creosote
Exposure to harmful chemicals
Train and Railroad Accidents in Texas
Filing a Train Accident Lawsuit in Texas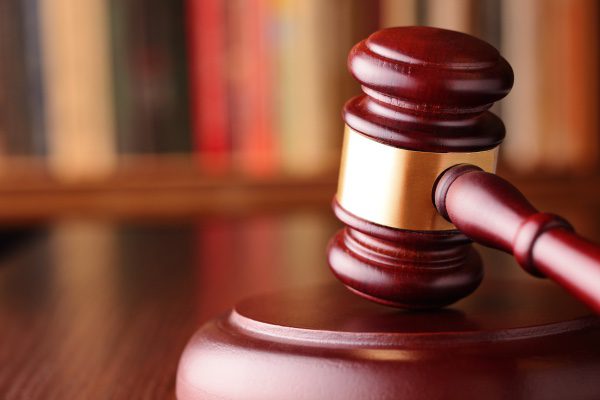 A train accident lawsuit begins when a complaint is filed with the court that holds jurisdiction over the accident. The train company and their insurers then file an answer that includes any affirmative defenses they have against your case. The parties exchange evidence during the "discovery" period, which is then followed by hearings regarding any pretrial motions that may be in place. These motions debate over what evidence may be admitted to the court, which facts the defendant and victim agree on, and any other preliminary matters that need to be settled. Sometimes, a settlement can be reached between these phases, but other times, a trial will need to be held. This is when the verdict will be decided, and if the railroad company or other liable party is held responsible, then a set of damages is set and paid to the victim.
Discuss Your Claim With a Texas Train Accident Attorney – Dallas, Amarillo, Abilene
Time off work, medical care, property damage, and all the other expenses associated with a train accident can be costly, especially if an injury prevents you from working as much as you did before. If you or a loved one has been injured in a train accident, contact the personal injury attorneys at the Hernandez Law Group, P.C. for help.
With short statutes of limitations for personal injury claims, including train-related claims, time is of the essence when it comes to filing for litigation. Contact our team today to schedule a free consultation and learn about your legal options. Our team has offices in Dallas, Amarillo, and Abilene.
Train Accident FAQs
What Is the Most Common Type of Train Accident?
The most common type of train accident is a derailment caused by broken welding or rails. The FRA reports that broken rails cause most of the trains crashed in the United States and are responsible for over 15% of all crashes.
Who Investigates Amtrak Accidents?
The National Transport Safety Board investigates all accidents for any interstate or intercity rail passenger operators or high-speed rail transport operators, which includes Amtrak.
What Are the Consequences of a Train Accident?
Train accidents can cause massive destruction to not only the train and its passengers, but any person or property near the accident site. This is due to the sheer size and power of the train.