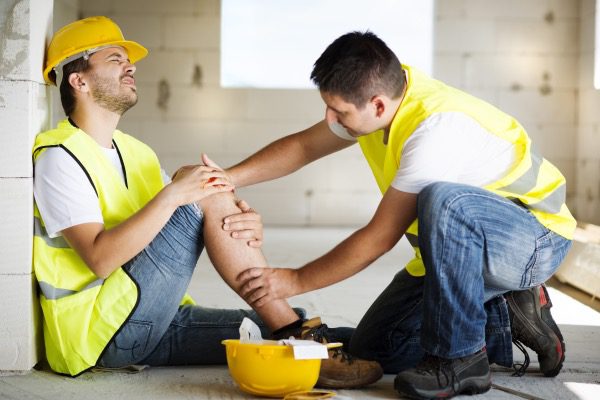 Construction Accident Lawyers in Dallas, Amarillo, and Abilene
Construction sites are by far the most dangerous of all workplaces. When employers, drivers, and employees act negligently, construction accidents are almost inevitable, often leading to serious injuries.
If you've been injured or your loved one was killed in a construction accident, it's important to contact the workplace accident attorneys at Juan Hernandez right away. Workers compensation insurance may not cover all the damages that result from a construction site accident – if your employer has workers comp at all. Our attorneys will make sure that you get the full compensation you deserve after your work accident. Contact us today, and we'll set you up with a free, no-obligation consultation with one of our personal injury attorneys.
How do Construction Workers Most Often get Hurt?
According to the Bureau of Labor Statistics, nearly 80,000 construction workers were hurt on the job in 2017. The most common causes of construction worker injuries were:
Being struck by a vehicle or object – 24,850 (31%)
Slip and falls – 24,160 (30%)
Overexertion – 20,910 (26%)
Being caught/compressed in machinery/equipment – 3,200 (4%)
Leading Causes of Death in the Construction Industry
Construction sites are incredibly dangerous, and they are where the highest percentage of workplace fatalities take place. According to the Bureau of Labor Statistics, there were 971 construction fatalities in 2017, and the leading causes were:
If your loved one was wrongfully killed at a construction site, contact the attorneys at Hernandez Law Group. We'll make sure that you get the compensation you deserve for the loss of future income, funeral costs, mental anguish, and other damages.
How to Prevent Construction Accidents
Construction sites are full of dangers, but that doesn't mean that accidents are inevitable. There are steps employers can take to keep worksites safer and help prevent their workers from getting hurt:
Provide and maintain guardrails. Since falls are the leading cause of construction worker injuries and fatalities, it's important that employers take steps to minimize the chances of falls. The first step in doing so is making sure that guardrails are in place and are in good condition.
Clear hazards. Walkways that are slippery or covered in tripping hazards are another leading cause of slip and fall injuries at construction sites. Making sure that floors are dry and clear of debris is important for keeping slips, trips, and falls to a minimum.
Maintain equipment. Malfunctioning equipment can crush limbs, strike workers, or otherwise cause serious injury. It's important for employers to make sure that all heavy machinery, equipment, and vehicles are well-maintained to prevent injury.
Provide proper training. Construction workers who are unsure about what they're doing are likely to injure themselves or others. Proper training can help workers take the correct steps and precautions on the job to prevent accidents.
Post all safety signage. Safety signs are vital for making sure that workers are aware of all potential workplace risks and that they're able to avoid them.
Provide safety gear. Employers should make sure that their workers have all the safety gear and equipment needed to keep them safe on the job. This may include hard hats, reflective vests, safety goggles, gloves, or any other required equipment. On locations where falls from great heights are possible, harnesses, lanyards, and safety nets are also recommended.
When employers fail to take these steps, construction workers are often hurt or killed. If your employer failed to make sure your workplace was safe and you got hurt, contact the work injury attorneys at Hernandez Law Group, P.C. We'll help you prove negligence and get you compensation for your injuries.
Construction Accident Injury Attorneys – Dallas, Amarillo, and Abilene
Workplace accidents at construction sites are always terrible. After a construction accident, contact Hernandez Law Group, P.C. so that our compassionate attorneys can get you on the path to recovery. We'll make sure that you get the compensation you deserve for any medical bills, income loss, and other damages so that you have what you need to pay for your treatment and recover from your pain and suffering.
Juan Hernandez has taken the steps to get board certification to practice personal injury law – a process that only 2% of Texas attorneys have gone through. Contact us today to get his expertise on your side as you go through the legal process of getting compensation for your construction accident injuries. Our case consultations are free and no obligation.