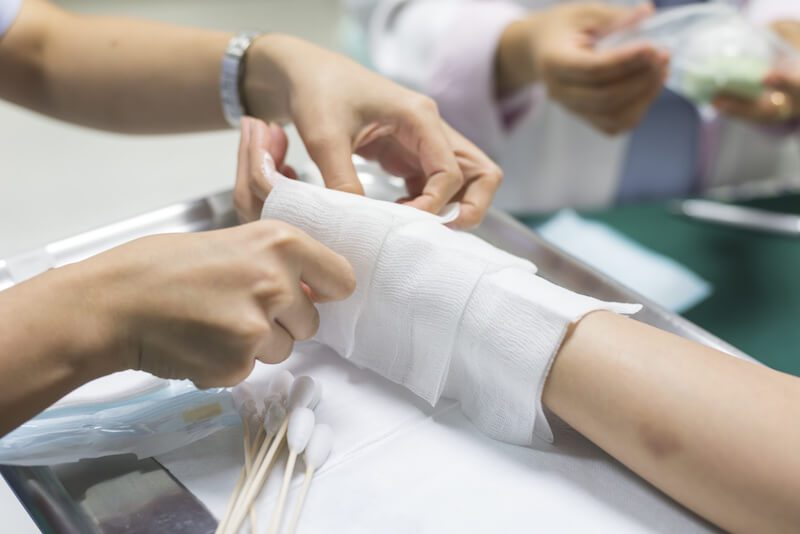 Burn Injury Attorney in Dallas, Amarillo, and Abilene, Texas
Fire and burn hazards are all around us. Faulty wiring can lead to a house fire. Improper warning labels on chemical containers can lead to a workplace injury. Manufacturing errors can cause a car to ignite on the roadway. These are just a few examples of how people may get burned.
If you or a loved one was killed in a fire or seriously burned, contact Hernandez Law Group right away. Burn injuries are often severe and lead to lifelong scarring and pain. Our attorneys will prosecute the party responsible for your burn injury or your loved one's wrongful death and get you the compensation you deserve. Contact us today to schedule a no-obligation consultation with one of our compassionate attorneys.
Burn Injury Statistics
According to the American Burn Association:
Burn injuries are one of the leading causes of injury or unintentional death in the US
In 2016, there were 3,390 civilian deaths from fires
One civilian dies in a fire approximately every 2.5 hours
Close to 500,000 burns that require medical treatment occur yearly
Almost ¼ of all burn injury victims are children
8% of all burn injuries occur in the workplace
Over 3,000 people die from smoke inhalation every year
Types of Burn Injuries
While thermal burns are the most common types of burns, there are several others as well. Types of burns include:
Thermal burns occur when you come in contact with something extremely hot.
Sunburn occurs when you're out in the sun too long.
Friction burns occur when your skin is rubbed forcefully enough to leave a severe mark or even remove skin. When these burns result from someone being launched across a roadway, they're often known as road rash.
Chemical burns are caused by extremely acidic chemicals.
Cold burns are caused by prolonged contact with incredibly cold objects or liquids.
Electrical burns.
Degrees of Burns
Burns are also categorized as first, second, or third-degree burns.
First-degree burns are the mildest of all the burn types. They cause pain and reddening of the skin. First-degree burns only affect the outermost layer of skin.
Second-degree burns are more serious than first-degree burns. In addition to pain and reddening, they also cause swelling and blistering of the skin. Second-degree burns affect all layers of skin.
Third-degree burns are the most serious types of burns. They cause severe pain, blistering, and blackened skin. Third-degree burns affect all layers of skin as well as the tissues beneath the skin.
Common Causes of Burn Injuries
Fire
Scalding liquids
Extremely hot metal
Being knocked off a motorcycle
Acids
Airbags exploding
Dry ice
Improper wiring
Smoke Detector and Fire Extinguisher Regulations
Landlords and other property owners are responsible for ensuring that smoke detectors are installed where they should be and that they are working properly. Smoke detectors must be installed in each bedroom, just outside each bedroom, and on each level of a house, hotel, or apartment. They must be regularly tested and maintenanced, and they should be replaced if not working properly.
Owners or landlords of apartments, hotels, and dormitories are required to provide easy access to fire extinguishers. These fire extinguishers should be easy to see and placed in hallways, within meeting rooms, and near exits. Every fire extinguisher should be inspected annually by a qualified fire protection equipment company. A more thorough inspection is required every 6 years.
How to Treat a Burn
There are a few easy ways to treat a first-degree burn. Some things to try include:
Apply cold water or a cold compress, which can reduce the pain right after a burn.
Apply aloe vera, which is an even more effective way to ease the pain – especially if you have a sunburn.
Use an antibiotic ointment such as Neosporin to keep out bacteria and ease the pain.
Take an over-the-counter pain reliever.
While these are all good things to try for minor burns, it's important that you go to the doctor immediately if you have a second-degree, third-degree, or chemical burn. Attempting to treat such burns yourself can lead to infection, lasting pain, and permanent damage.
Texas Fire and Burn Injury Attorneys
Burns and fires can be devastating. Third-degree burns can lead to permanent disfigurement and pain. A loved one's death in a fire can lead to severe mental anguish. If you or a loved one was a fire or burn injury victim, call the personal injury attorneys at Hernandez Law Group. We'll help you determine the extent of your damages and litigate your case to get you the compensation you deserve.
Our lead personal injury attorney Juan Hernandez has been board-certified by the Texas Board of Legal Specialization to practice personal injury law; only 2% of Texas attorneys have this certification. Contact us today to schedule a free, no-obligation consultation at one of our North Texas offices.