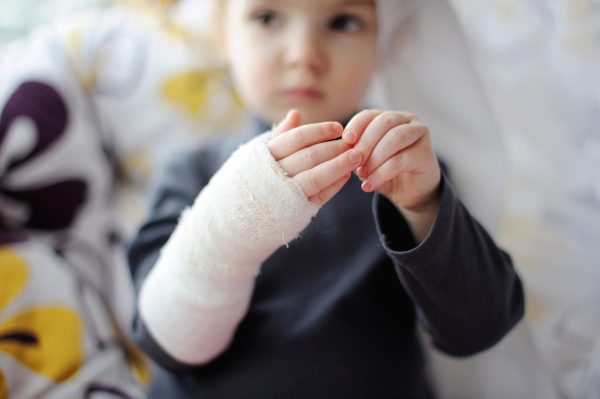 Texas Personal Injury Attorney for Children's Injuries
No parent ever wants their child to get injured. Unfortunately, over 30 million children sustain injuries every year, and over 200,000 children are killed.
If your child was the victim of an accident or crime that led to injury or wrongful death, contact the personal injury attorneys at Hernandez Law Group, P.C. Our compassionate attorneys will help you through this difficult time and get you the compensation that you deserve. Contact us today to schedule a no-obligation, no-cost consultation.
Most Common Child Injuries
According to the Centers for Disease Control, here are some of the most common causes of injuries to children and child fatalities:
Drowning
Swimming pool accidents are common occurrences among children. The CDC reports that 11,116 children received drowning-related injuries in 2017, and 739 children died due to drowning.
Falls
Anything from a simple trip and fall to a fall from a balcony can cause a child to get injured. In 2017, 1.8 million children suffered from fall injuries, and 59 children died due to falls.
Fire/Burns
Children are more likely than adults to get burned by touching a hot object or to get trapped in a fire. In 2017, 83,784 children received fire/burn injuries, and 311 children died due to fire/burn injuries.
Poisoning
When children aren't monitored closely enough, they can get ahold of cleaners, medications, or other dangerous substances. This often leads to poisoning. Nearly 80,000 children are either accidentally or intentionally poisoned every year, and 186 are killed due to poisoning.
Motor Vehicle Accidents – Occupant
In 2017, 148,141 child passengers in motor vehicles were injured in a car wreck. 316 children were killed in car accidents.
Bicycle Accidents
Children on bicycles are often hit by cars. In 2017, over 100,000 children were injured in a bicycle accident, and 60 were killed.
Pedestrian Accidents
Children are also often struck by cars as a pedestrian. Nearly 20,000 children were injured in pedestrian accidents, and 388 were killed in 2017. According to the NHTSA, around 20% of all kids who are killed in traffic accidents are pedestrians.
If your child received one of these injuries due to someone else's actions, contact the attorneys at Hernandez Law Group, P.C. for a free consultation for your child's injury case.
What is Considered Child Abuse?
The Texas Family Code Chapter 261 defines child abuse as:
deliberate acts of physical abuse
serious threats of physical abuse
sexual indecency involving a child
sexual assault/aggravated sexual assault
the use of a child for the creation of obscene materials
emotional abuse
failure to protect a child from sexual, physical, or emotional abuse
labor trafficking
sex trafficking
What is Injury to a Child by Omission?
Injury to a child by omission means that a person had a duty to prevent harm from befalling a child, but that person failed to take any action to do so. For example, if a preschool teacher leaves a playground gate unlatched, doesn't keep an eye on all the children, and a child wanders out into the street and gets hit by a car, then that teacher has caused injury by omission.
Is Injury to a Child a Felony in Texas?
Under the Texas Penal Code section 22.04, injury to a child is considered a felony. The degree of felony depends on the circumstances surrounding the injury. The charge can range from a state jail felony for non-serious bodily injury or injuries caused by criminal negligence, to a first-degree felony for injuries caused intentionally or knowingly.
Child Injury Lawyer in Dallas, Abilene, and Amarillo
If your child sustained injuries due to another person's negligent, intentional, or reckless actions, contact the personal injury law firm. The attorneys at Hernandez Law Group, P.C. are experts at getting people the compensation they deserve for their child's injuries, pain and suffering, mental anguish, and other damages.
Juan Hernandez is certified by the Texas Board of Legal Specialization to practice personal injury law. Only 2% of lawyers in Texas have this certification. Contact us today to schedule a consultation at one of our North Texas offices.