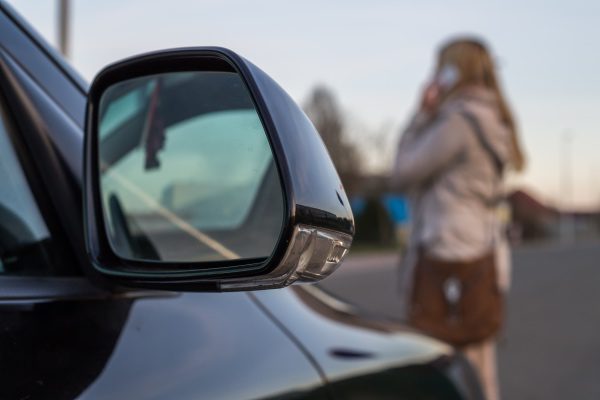 Pedestrian Accident Lawyer in Dallas, Amarillo, and Abilene, Texas
When you're walking legally around roadways or in parking lots, drivers have a duty to avoid hitting you. After all, their vehicles weigh thousands of pounds, and even at slow speeds, they can cause serious injury.
At the same time, pedestrians have a duty to walk legally and pay attention to their surroundings. By crossing the street illegally, not paying attention to their surroundings, or engaging in other reckless behavior, they can cause both themselves and drivers to get seriously injured.
If you were injured in a pedestrian accident, the attorneys at Hernandez Law Group, P.C. will help you gain compensation for your injuries. In addition, if your loved one was one of the many thousands of pedestrians killed by an automobile, we can help you get justice and compensation for their wrongful death as well. Whatever losses and suffering you've endured, we'll ensure you get fully compensated.
Number of Pedestrians Killed by Vehicles Each Year
The Governors Highway Safety Association (GHSA) estimates that nearly 6,000 pedestrians were killed by cars in 2017. This number has steadily risen since 2007, which saw around 4,700 pedestrian fatalities. Pedestrian fatalities represent around 16% of vehicle-related fatalities now; they only represented 11% in 2007.
On average, pedestrians are killed by cars every 1.5 hours. Even though these accidents usually aren't the fault of the pedestrians, pedestrians need to remain vigilant so that they can avoid being struck and killed.
Number of Pedestrian Accidents in Texas
According to the Texas Department of Motor Vehicles (TxDOT), 5,767 pedestrians were injured by cars in 2017. Of these pedestrian injuries, 10% (614) resulted in fatalities. Texas drivers cause over 10% of total pedestrian fatalities every year.
What are the Main Causes of Pedestrian Accidents?
When a pedestrian gets struck by a vehicle, it's generally due to the driver's negligence. The most common causes of pedestrian accidents include the following:
Speeding
Texting
Distracted driving
Driving too fast for the weather conditions
Driving under the influence
Failing to signal a turn
Failing to yield a pedestrian the right of way
Is the Driver Always at Fault for a Pedestrian Accident?
While drivers are usually found at fault for pedestrian accidents, the pedestrian can sometimes be the one who causes the accident. A pedestrian may cause themselves to be struck if they
are texting while crossing the street;
are under the influence of drugs or alcohol;
cross the street illegally;
walk on the roadway;
wear dark clothes at night; and/or
dart in front of a vehicle.
Unfortunately, darting in front of a vehicle is a common ruse that people use to get paid. In these cases, the driver must collect video footage, witness statements, and documentation of the pedestrian's actual injuries to help prove their innocence.
Contributory Negligence for Pedestrian Accidents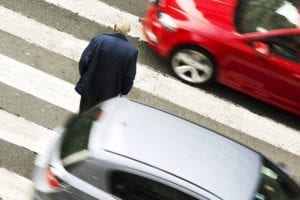 In some cases, the driver and the pedestrian may be found partially at fault for the accident. When this happens, they may both be responsible for a portion of the damages.
Texas is a modified contributory negligence state. This means that if the plaintiff sues for damages after the accident, they can only receive compensation if they are found to be less than 50% at fault. For example, if the pedestrian sues the driver for striking them while speeding, but the pedestrian is found to be the main cause of the accident because they were crossing the street illegally, the pedestrian cannot receive compensation for their injuries.
Does Insurance Cover Hitting a Pedestrian?
Yes, your insurance company will cover all or most of the pedestrian's damages, depending on the amount of liability insurance that you have. If the pedestrian's injuries are extensive and you only have the state minimum liability coverage, the pedestrian may not accept the settlement from the insurance company because it is insufficient. In this case, the pedestrian will likely bring the driver to court.
However, it's also important to remember that the driver may sue the pedestrian if the driver believes the pedestrian to be the main cause of the accident. Whether you're the driver or the pedestrian involved in the accident, it's important to consult with an attorney to determine who may be mostly or completely at fault for the accident.
Contact Hernandez Law Group, P.C. in Texas
At Hernandez Law Group, P.C., we can help you file the necessary claims and ensure that you receive all the compensation you deserve for your injuries and other damages. If you or someone you love has been injured in a pedestrian accident, contact one of our experienced Texas personal injury lawyers immediately. With board certification to practice personal injury law – a certification that only 2% of Texas lawyers have obtained – Juan Hernandez is the best bet for representation in your case. Contact us today to schedule a free consultation with one of our attorneys.