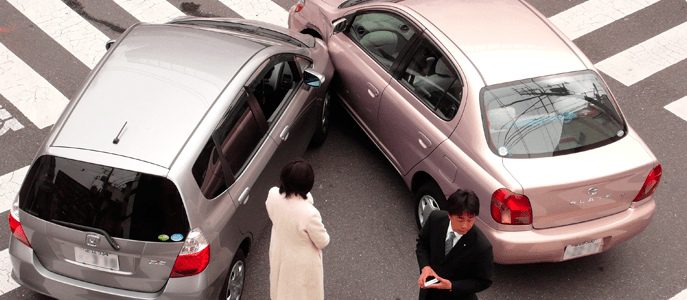 Car Wreck Lawyers in Dallas, Amarillo, and Abilene
Every year, over 2.5 million people are injured in auto accidents in the U.S. alone. These automobile accidents range from minor fender benders to serious head-on collisions that leave victims with life-threatening injuries.
After you get in a car wreck, you must seek legal representation immediately. At Hernandez Law Group, P.C., our experienced personal injury attorneys have extensive experience working with victims of car accidents. You need to receive full compensation for your injuries, vehicle damage, and other damages so that you won't be burdened with financial hardship after your accident.
In addition, you deserve compensation for the pain and suffering you endured during and after the accident. The attorneys at Hernandez Law Group in Dallas, Amarillo, and Abilene have a proven track record of winning clients full compensation for their damages, and we'll make sure that you get the ideal outcome for your case. Contact us today if you've been injured in a car accident in Texas.
Common Types of Dallas Car Wrecks
Car accidents can occur at any time, and you may not always be able to see them coming. Some of the most common types of auto accidents include:
Sideswipe accidents
Head-on auto accidents
What to Do Immediately After a Car Accident on Texas Highways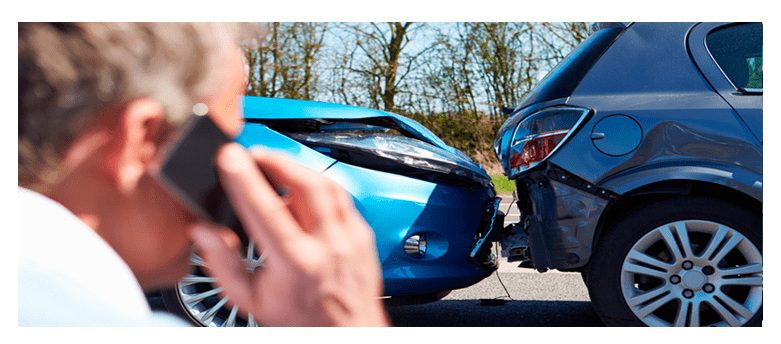 It's important to remain calm after a car accident and make sure that you follow all the following steps:
Move your car (if you can do so safely). It's much more important to move off the road than to stay exactly where the accident happened. This will keep both you and other drivers safer. Of course, if you can't move your car after the accident due to extensive damage or your injuries following the wreck, don't worry about moving the car. In either case, make sure to turn on your hazard lights.
Check on the other driver and passengers. It's important to ensure no one is seriously injured after the wreck. If anyone is (including yourself), immediately call an ambulance.
Call the police. Once you've moved to safety and checked on everyone, it's time to call the police to file a report.
Gather information about the crash. As you wait for the police to arrive, you should gather as much information about the car crash as possible. This will help you when you're making a car accident police report. This information may include the names of drivers and passengers, license plate numbers, the insurance information of the other driver, makes and models of the vehicles, witness statements and contact info of any witnesses, and the location of the accident.
Take pictures of the accident scene. Use your phone to document all damage after the vehicle crash.
Call a Dallas car accident attorney. Many people think that the next step is to call their insurance company. However, insurance companies are notorious for twisting words around and giving people as little money as possible for their accidents. The attorneys at Hernandez Law Group will help you get the full amount you deserve from the other driver and the insurance company.
Visit a medical professional. After an accident, you should always see a doctor to document your injuries. Even if you think you don't have any injuries, you should still go to the hospital because certain injuries (such as traumatic brain injuries) don't manifest immediately.
How to File a Car Accident Police Report in Texas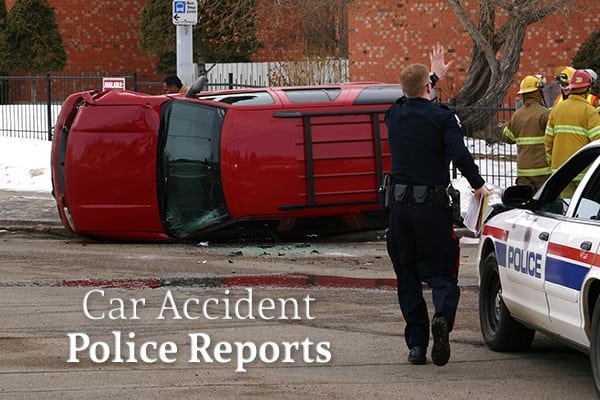 After a car accident, it's best to file your report with the officer reporting to the scene. In some cities, however, you also have the option of filing the report after the fact at the Texas Department of Transportation. If the damage is minor, you're not legally obligated to file a car accident police report.
Remember that filing a car accident police report in Texas does not force you to file an insurance claim, so you should file a report even if you and the other driver are considering a settlement without involving the insurance company.
Common Causes of Car Wrecks in Dallas
According to the National Highway Traffic Safety Association, some of the most common causes of vehicle accidents include:
Speeding
Failure to perform vehicle maintenance
Inadequate surveillance
Driving too fast for the conditions
Illegal driving maneuver
Driving while intoxicated
Theories of Liability
Theories of liability help determine who is responsible for your injuries and the damage to your car. In certain cases, more than one theory of liability will apply, and so multiple parties can be held responsible for your damages. The theories of liability that most commonly apply to car wreck cases are:
Negligence, or Direct Liability. The most common cause of car accidents is negligence (also known as direct liability). When another driver operates their vehicle unsafely, their negligence may cause you to get into a car accident. Whether they're speeding, following too closely, not paying attention, or engaging in another negligent behavior, they're liable for your damages.
Respondeat Superior. Respondeat Superior is the theory of liability that holds employers responsible for the actions of their employees. If you're struck by an 18-wheeler, a crane, or a company vehicle, you may be able to hold both the vehicle's operator and their employer responsible for your damages.
Product Liability. Occasionally, a faulty vehicle or part may contribute to or cause your accident. Faulty parts may also cause an increase in injuries, such as in the case of airbags not deploying. In these cases, the vehicle manufacturer may be held wholly or partially responsible for your car accident.
Common Car Accident Injuries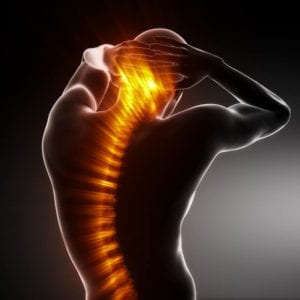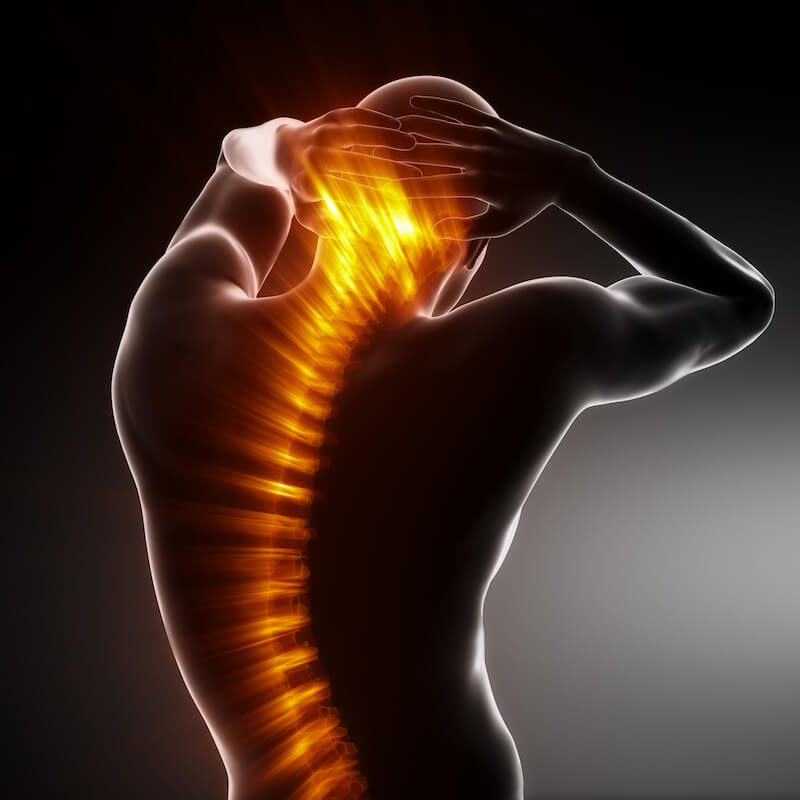 A car wreck can lead to a wide variety of severe injuries. These include:
Soft tissue injuries
Scrapes and cuts
Internal bleeding
Car Accident Injury Damages
After a vehicle accident, there are several types of damages you may be entitled to compensation. These include:
Property damage. You deserve to be compensated for any damage to your vehicle after you are in a car accident. In addition, you may also be able to receive compensation for any objects in your car that are damaged in the vehicle wreck.
Medical bills. You're likely to incur injuries after you've been in a car wreck. These injuries can lead to thousands of dollars in medical bills, which you deserve to be recouped.
Income loss. As you recover from the injuries you sustain from a vehicle accident, you may lose income, for which you deserve compensation.
Pain and suffering. Pain and suffering damages include any physical or mental suffering you experience after an accident.
Punitive damages. In some cases, you may be entitled to punitive damages after a car wreck. These damages are designed to punish the entity or individual that caused your wreck for their reckless or negligent behavior.
Mental anguish. If a loved one is killed in a car accident, you may be entitled to compensation for the mental anguish that you suffer.
Required Vehicle Insurance in Texas
The only kind of car insurance that Texas requires is liability insurance. These are the minimum coverages that every driver in Texas must have:
Bodily injury liability – $30,000 for each injured person and $60,000 total per accident
Property damage liability – $25,000 per accident
Optional insurance that you should consider includes collision coverage, comprehensive coverage, uninsured motorist protection, and personal injury protection.
DFW Metroplex Car Accident Statistics
According to data collected by the Texas Department of Transportation, Texas saw 422,695 car wrecks in 2017, which averages out to about 1,158 per day. 3,342 of these crashes were fatal crashes, which means that 8 out of every 1000 crashes led to death.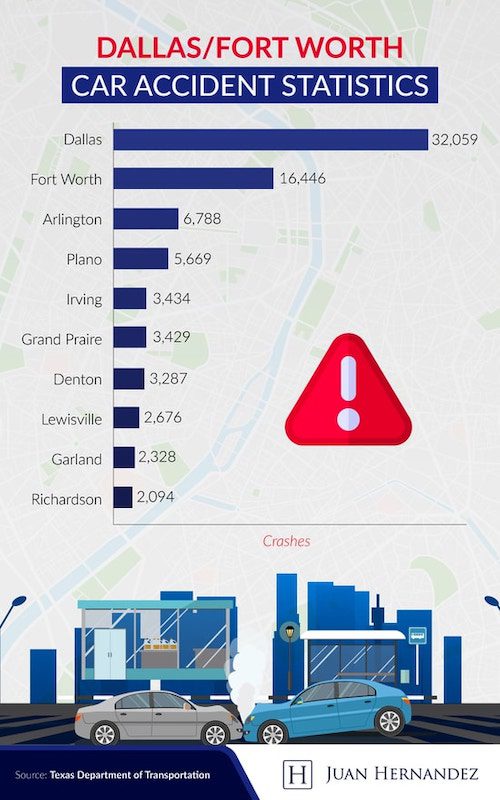 The most dangerous Dallas/Fort Worth cities to drive in are:
Dallas with 32,059 crashes
Fort Worth with 16,446 crashes
Arlington with 6,788 crashes
Plano with 5,669 crashes
Irving with 3,434 crashes
Grand Prairie with 3,429 crashes
Denton with 3,287 crashes
Lewisville with 2,676 crashes
Garland with 2,328 crashes
Richardson with 2,094 crashes
In total, 122,352 car accidents occurred within the Dallas/Fort Worth Metroplex, which is 29% of the total number of accidents in Texas. Dallas County was the most accident-prone city, with 20 accidents per 1,000 people and 50,627 vehicle crashes overall. Collin County was the safest, with 13 car wrecks per 1,000 people.
DFW Drunk Driving Accident Statistics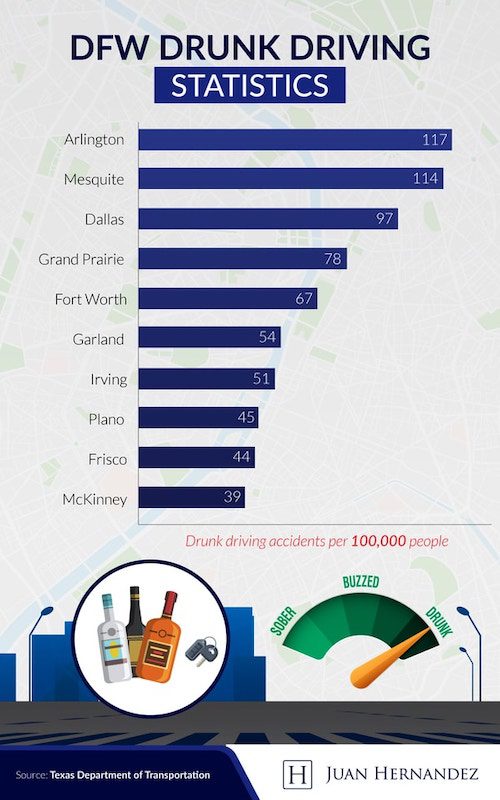 The drunk driving epidemic is serious in the Dallas area. Alcohol was the cause of 5,589 car wrecks in 2017, which equates to around 15 a day. While alcohol only contributed to around 4.6% of the total vehicle crashes in the DFW area, DWIs were the cause of 10.7% of crash-related fatalities. The 10 Dallas/Fort Worth cities with the worst drunk driving epidemics are:
Arlington with 117 drunk driving accidents per 100,000 people.
Mesquite with 114 drunk driving accidents per 100,000 people.
Dallas with 97 drunk driving accidents per 100,000 people.
Grand Prairie with 78 drunk driving accidents per 100,000 people.
Fort Worth with 67 drunk driving accidents per 100,000 people.
Garland with 54 drunk driving accidents per 100,000 people.
Irving with 51 drunk driving accidents per 100,000 people.
Plano with 45 drunk driving accidents per 100,000 people.
Frisco with 44 drunk driving accidents per 100,000 people.
McKinney with 39 drunk driving accidents per 100,000 people.
Close to 24% of the DWI accidents in Texas were in the DFW area.
How our Texas Car Wreck Attorneys can Help you Receive Compensation
A personal injury attorney does more than represent your case in court. Our car wreck attorneys will help you determine who is liable for your injuries, what kinds of insurance claims to file, what damages you deserve compensation for and other important factors of your case.
We will also deal with the insurance companies for you; the legal team at Hernandez Law Group know how to work with the insurance companies so that they can't manipulate you into receiving less compensation than you deserve.
If you've been in a car accident, contact our team at Hernandez Law Group, P.C. Juan Hernandez is one of a small percentage of lawyers in Texas who are board certified in personal injury law.
Because of this, you can trust that he has the experience to win your case. Contact us today to schedule your free car accident legal consultation. We have law offices in Dallas, Amarillo, and Abilene.
More Resources: