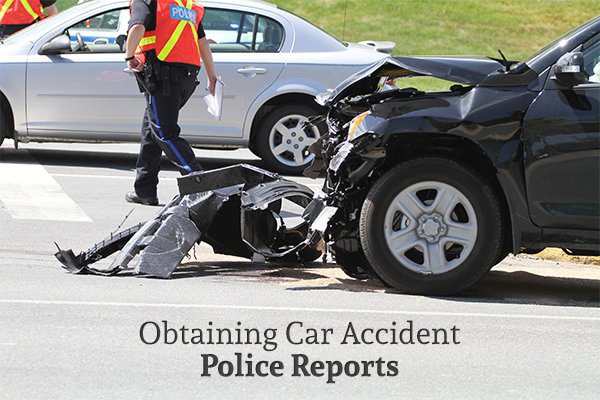 The aftermath of a car wreck is a stressful time and you may need to take steps before the whole process is over. While it is not usually necessary to obtain a car accident police report on your own, you may want it for your files or other purposes. Fortunately, after you go through the process of filing your auto accident police report, you have several simple options for obtaining the report. Here's how to obtain a car accident police report in Texas.
What Does an Official Accident Report Contain?
Car accident reports are written and certified by the responding officer. They summarize the facts based on the officer's initial observations and interviews with the involved parties. A car accident report generally covers the following information:
Date and time of the accident
Where the accident took place
Each driver's insurance information
Extent of the damage to the vehicles involved
Known injuries of the drivers and passengers
Statements from those involved and any witnesses
Contact information for the witnesses
Road and weather conditions at the scene of the accident
A visual diagram of the accident
Laws and codes violated by any of the drivers
The opinion of the officer as to the cause and/or fault
Car accident reports can be hard to read at first as they use different codes and abbreviations to save space. These codes are unique to each state. The State of Texas uses the following code sheet as set by the Texas Department of Transportation.
Hernandez Law Group Insight; Not All Accidents Will Have Police Reports
Contrary to popular belief, not all accidents warrant a police report. Most jurisdictions in Texas only call for a police report to be submitted if there are injuries to anyone involved or if there was extensive damage. The Texas Transportation Code states that an officer only needs to submit an accident report if the accident meets the following criteria:
There was an injury to either the drivers involved or the passengers
The damage to property is more than $1,000
This means, if you were in a minor rear-end accident and only paint got chipped on one of the vehicles, a police report may not be filed for the accident.
How Long After An Accident Will the Police Report Be Made Available?
Typically, it takes anywhere from a few days to three weeks from the accident for the report to be made available. If you are looking to obtain a police report of your accident, request a copy as soon as possible. This is especially true if you are looking to get compensation for the accident.
It is important to note that for more serious accidents resulting in death or serious injuries, it could take over a month to complete the investigation. This is especially true if there are any signs of foul play.
How to Obtain a Copy of Your Accident Report
At the time of the accident, the reporting officer should have given you an accident report number. This number is extremely important but if you do not remember it, you can also obtain a police report using the following information:
Date and time of the accident
City, state, and location of the accident
Name of the drivers involved
The name of the police department that was in charge of investigating
One important thing to know before requesting your car accident report is that you don't need to retrieve it for your insurance company. They can obtain the accident report on their own, so if they want you to get it for them, they're just being lazy.
How to Obtain a Car Accident Report in Person
The quickest and often easiest way to obtain a car accident report in Texas is in person. To do so, go to the city hall of the city where you got into a wreck. From there, it's usually a fairly straightforward process.
How to Obtain a Car Accident Report Online
Of course, snail mail takes a while to arrive—especially when it's being sent by the government. Fortunately, you can usually obtain a car accident report online by using the Texas Crash Records Information System. This system allows you to immediately get an electronic copy of the crash report.
The downside to this option is that you can't get a certified copy of the report this way should you need one. Additionally, some cities in Texas may not make the report available online.
Need Help Handling the Insurance Company or Getting the Compensation You Deserve?
After an accident, make sure you consult a personal injury attorney before you start talking to your insurance company. Insurance companies are greedy and will twist your words around to ensure they can give you as little money as possible. If you've been injured in a car wreck, call the law offices of the Hernandez Law Group, P.C. Juan Hernandez is one of only 2% of attorneys who are Texas board-certified to practice personal injury law. He and his team of lawyers will make sure that you get the full compensation you deserve from your insurance company and the driver who injured you.