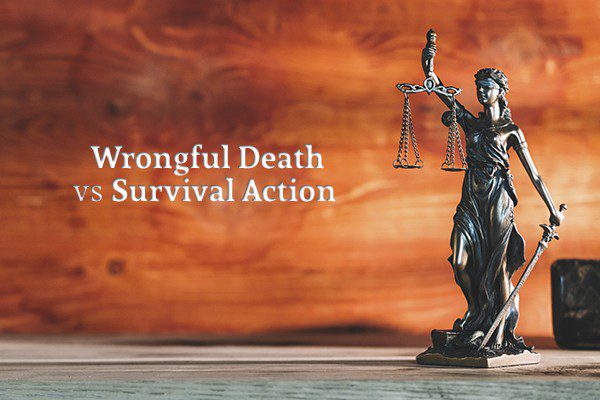 Unexpectedly losing a loved one is devastating. This holds especially true when your loved one passed away due to the recklessness or negligence of another individual. While there is no way to bring your loved one back, there are ways to ensure that justice is served for them.
There are two options for getting justice: filing a wrongful death claim or filing a survival action claim against the negligent party. What is the difference between a wrongful death claim and survival action? How do you know if your case qualifies for either of these two lawsuits? Read on to learn more about these two claims and what you'll need to prove your right to recover damages under Texas Law.
Wrongful Death Claims
Wrongful death, as defined by the Texas Statutes Section 71.001, is death that was the result of "wrongful act, neglect, carelessness, or unskillfulness" of one party. In the state of Texas, individuals who are allowed to pursue a wrongful death claim for their loved one include the surviving spouse, children, and parents.
Filing a Wrongful Death Claim in the State of Texas
The surviving spouse, children, or the parents have two years from the date of death to file a wrongful death claim. If he or she does not file within three months, the personal representative or executor of the deceased's estate may file the claim. However, this right can be denied if a surviving family member has specifically requested that no lawsuit be filed.
Wrongful death claims must be filed directly, and liability can only be paid in monetary damages. The individual being tried for the wrongful death will not face punishment in terms of jail time, probation, or fines. However, he or she can face punitive damages based on the fact of the case. If the defendant is being tried for criminal charges, wrongful death lawsuits can still be carried out as well.
What Damages Are Available in a Wrongful Death Claim?
Money can never fill the emptiness left by the loss of a loved one. However, it can help compensate your family for the physical, financial, and emotional impact that was experienced due to the loss of life. If you can prove that your loved one's life was cut short as a direct result of the defendant's negligence or reckless behavior, you may be entitled to recover compensation. Here are the damages that are available in a wrongful death claim:
Loss of Support – damages that directly stem from the loss of financial support your loved one provided.
Loss of Consortium – damages that relate to the loss of love and companionship of the spouse. Children can recover loss of consortium on grounds of the loss of love, support, and guidance from their parents.
Punitive Damages – punitive damages are meant only to punish the wrongdoer and discourage others from engaging in similar negligent behavior.
Mental and Emotional Anguish – damages that refer directly to the emotional suffering of the surviving family members.
In the State of Texas, any damages awarded in a wrongful death claim is split between the surviving family members in proportion to the pain and suffering they suffered as a result of the untimely death. These amounts are determined by the court.
Survival Action Claims
A survival action claim is similar to wrongful death in that it may be brought by a surviving family member on the decedent's behalf. However, unlike a wrongful death claim, a survival claim is typically filed by the deceased's estate representative rather than a family member.
Survival action claims focus solely on the suffering of the individual who died rather than the grief and financial loss of the surviving family members. This type of claim is generally filed when the situation, should the individual have survived his or her injury/incident, would have had a viable claim against the defendant for personal injuries.
What Damages Can Be Claimed in a Survival Action Claim?
In the State of Texas, these damages are available in a survival action claim:
Lost wages and benefits for the period between the time of injury and the time of death
Medical expenses accrued before the time of death
Pain and suffering damages
Instead of the awarded damages being distributed directly to the surviving family members, as in a wrongful death claim, the damages are put into the deceased's estate. From there it will be distributed to the family members as directed by their will or final wishes.
The pain you and your family have felt from the loss of a loved one should not be faced alone. The compassionate attorneys at the Hernandez Law Group, P.C. can help you claim the compensation you deserve. We understand that you only get one shot at a lawsuit, so we will fight hard to make sure that one shot counts. With a no-win, no-fee policy, we take the risk away from pursuing a lawsuit, allowing you to focus on your family during this difficult time. Contact our team today to schedule a free no-obligation consultation and find out why more Texans are turning to the team at the Hernandez Law Group.