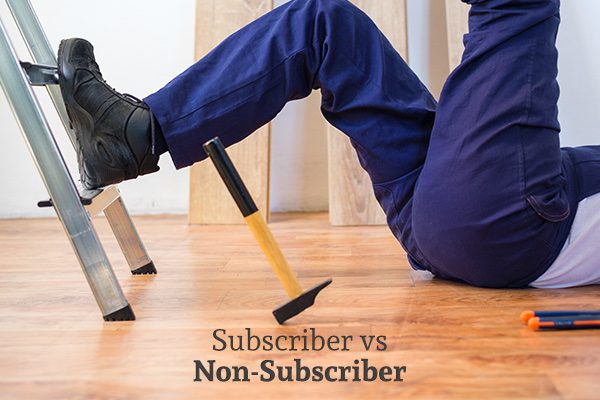 The Bureau of Labor Statistics reports that there were a total of 469 fatal work accidents in Texas in 2020. Out of those 469 incidents, here is the breakdown of causes:
| | |
| --- | --- |
| Types of Work Incidents | Number of Accidents That Resulted in Death |
| Incidents From Violent Behavior From Another Animal or Person | 55 |
| Incidents From Work Vehicle Accidents | 214 |
| Slip and Fall Accidents | 71 |
| Exposure to Harmful Substances or Environments | 48 |
| Contact With Dangerous Equipment | 70 |
| Other  | 11 |
Nationally, the United States saw about 2.7 million nonfatal workplace injuries and illnesses in 2020. Industries that saw the most frequent cases of non-fatal work injuries were the healthcare field and blue-collar industries. These are as follows:
| | |
| --- | --- |
| Industry | Number of Nonfatal Workplace Injuries or Illnesses |
| Nursing Assistants | 96,480 cases |
| Licensed Practical and Licensed Vocational Nurses | 78,740 cases |
| Tractor-Trailer Drivers | 43,500 cases |
| Laborers, Freight, Stock, and Material Movers | 25,000 cases |
If you have been injured on the job, you can usually seek compensation from your employer's workers compensation insurance company. However, not all companies have workers comp. The companies that do have worker's compensation are known as subscribers, and the ones that don't are known as non-subscribers.
Whether your company is a subscriber or a non-subscriber affects the way you receive compensation for your injuries. This article will explain the differences between a subscriber and a non-subscriber so you can better understand how to gain compensation after a work injury.
Workers Compensation Subscribers
Texas is one of the states that does not require employers to carry workers compensation insurance. However, Texas does provide incentives for employers to invest in worker's compensation as outlined by the Workers Compensation Act of 1993.
The Workers Compensation Act states that employers who carry worker's compensation coverage are exempt from employee lawsuits, except in cases of gross negligence on the part of the employer. In cases of gross negligence, employees may file a civil lawsuit to receive additional compensation to cover the cost of injuries and lost wages.
Workers compensation subscribers provide their employees with a streamlined process to collect compensation for a work-related accident. Simply put, employees can get their compensation quickly by filling out the proper paperwork. They are then able to use their compensation to cover medical expenses and, in some cases, compensate for lost wages.
Hernandez Insight: What Should Workers' Compensation Cover in Texas?
According to the Texas State Division of Workers' Compensation, employers who are subscribers to worker's compensation need to offer the following benefits:
Medical Benefits

: Covers the costs associated with treating a workplace illness or injury.

Income benefits

: Covers (partial or total) money an employee loses due to a workplace injury or illness.

Impairment income benefits

: Available for Texas workers who sustain permanent bodily damage due to a workplace injury.

Supplemental income benefits

: These benefits are paid out to workers who sustained major permanent damage and are unable to return to work or who are earning less than previously made because of their injuries.

Lifetime income benefits

: paid to workers who sustain certain serious injuries, such as blindness or brain injuries.

Death and burial benefits

: replaces 75% of lost income for the eligible family members of workers who died on the job.
Workers Compensation Non-Subscribers
Without worker's compensation insurance, the process of receiving compensation after an injury is more complicated. If an employer is a non-subscriber, their employee will have to file a lawsuit against their employer to receive either partial or full compensation for their injuries. How much compensation an employee can receive is based on the strength of their case. In certain cases, the employer may try to settle out of court. You should always consult a work injury attorney before accepting a settlement.
Why Would I Need to Hire a Work Injury Attorney for a Non-Subscribers Case?
Unlike a subscriber case, which is a no-fault benefit, in a non-subscribers case, you have to prove your employer is at fault for the accident that led to your injury. A work injury attorney can ensure that you are getting the compensation you deserve for your injuries by proving the negligence of your employer.
When you are faced with a work-related injury, don't face the court system alone. The personal injury attorneys at the Hernandez Law Group, P.C. will help you gather evidence and build a strong case so you can get the compensation you deserve. Juan Hernandez is Texas Board Certified to practice personal injury law, which only 2% of Texas attorneys are. We are proud to serve the hard-working individuals of Amarillo, DFW, and Abilene, Texas. Contact us today for a free no-obligation consultation.