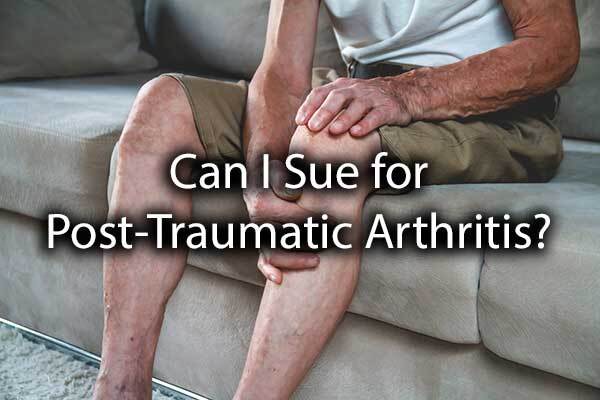 In some cases, it can take years to show the true injuries of an accident. From car wrecks to work falls, injuries can manifest, leading to confusing circumstances surrounding your accident. Health problems might not immediately arise, but they are a direct result of the accident, and the negligent individual who caused the accident is responsible.
Post-traumatic arthritis often takes a few months to a few years to fully develop. In this article, we will go over what post-traumatic arthritis is and how it can affect your personal injury claim.
What Is Post-Traumatic Arthritis?
Post-traumatic arthritis is a condition that causes pain and swelling in joints that have suffered a previous injury. Injuries to the muscles, ligaments, and tendons most often lead to post-traumatic arthritis, as the strain of the injury is felt by the joints and wears down the cartilage. Areas of the body where post-traumatic arthritis is common can include the following:
Knees
Ankles
Shoulders
Elbows
Wrists
Hips
Hands
Feet
Symptoms of Post-Traumatic Arthritis
Post-traumatic arthritis has some tell-tale symptoms and if you notice any of these, you will need to seek out medical attention immediately.
Pain in the joint while resting or moving
Joint tenderness
Swelling and inflammation of the joint
Instability of the joint
Grinding of the joint
Stiffness or lack of motion
Can I Seek Compensation for Post-Traumatic Arthritis?
Individuals seeking compensation do not know how injuries will affect him or her later in life. For example, if you were in a car accident a few years ago, already received compensation for your injury, but then had added on medical bills later due to post-traumatic arthritis, you cannot seek compensation again. This creates an issue for individuals who did not get the compensation they deserved for their accident and leaves them facing more stress from this debilitating medical condition.
There is good news! An experienced personal injury attorney can help you get the compensation you deserve for your injury and prepare you to handle any future expenses. The dedicated attorneys at the Hernandez Law Group, P.C. are the top personal injury attorneys in Dallas, Abilene, and Amarillo. Regardless of your case's challenges, our team will work hard for you.
When we handle cases that may have the potential of developing post-traumatic arthritis, we seek the following damages;
Medical compensation: Post-traumatic arthritis often involves various medications and treatments to handle the pain, reduce swelling, and improve the motion of the joint. All of these treatments can add up over time.
Lost wages: It can be easy to see how post-traumatic arthritis can lead to an individual being forced to change careers, miss days at work, or prevent one from working in severe cases.
Pain and suffering: Arthritis is an extremely painful condition and can prevent you from doing the things you love leading to emotional distress.
When you need a legal team to help you claim the compensation you deserve, the Hernandez Law Group, P.C. will be there to help! Contact our team today for more information or to schedule a free no-obligation consultation.