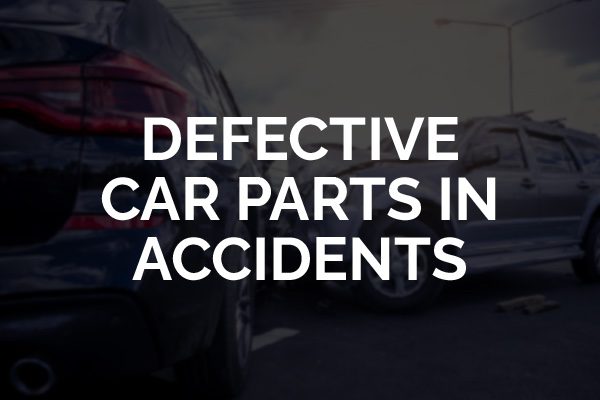 When most individuals think of car accidents, they often think that it is an error on the part of the driver. However, sometimes the fault does not lie with the driver and, instead, was caused by a faulty car part.
Consumers trust car manufacturers and sellers to sell cars with parts that were properly designed and manufactured, passing the safety standard tests. When these parts are faulty or corners are cut to meet high demand, these parts can fail and lead to horrific crashes that result in serious injuries or even death.
If you or a loved one has been involved in an accident that was caused due to a defective auto-part, you may be entitled to compensation from the manufacturers or sellers of the car. You will want an experienced team of both car accident and product liability attorneys to help you take on the big corporations and get the compensation you deserve. Here is more information on what you should do if your accident was caused by a defective car part:
What Type of Defective Auto Parts Can Result in a Car Accident?
The average car has about 30,000 moving parts. All of these parts have to work together to keep the vehicle operating smoothly and safely. While some parts, such as the windshield wipers, won't necessarily debilitate a car from driving, the risk of an accident does increase as soon as a part stops working.
It is important to get your car inspected yearly, maintained regularly, and always check over your car before deciding to operate it. However, even with these precautions, these defective parts are most commonly tied with serious and deadly car accidents:
.
Brake systems
Airbags
Seats
Seatbelts
Steering systems
Ignition switches
Accelerator controls
Wiring systems
Tires and wheels
Fuel systems
Gas tanks
Frames of vehicles
Engines
Transmissions
Clutches
Lights
When a car accident occurs due to a faulty car part, it can be hard to understand exactly which part caused the accident. A car accident attorney, such as those at the Hernandez Law Group, P.C., can help you get your car inspected by a reputable car mechanic. These mechanics can help pinpoint the cause of the failure, which we can then use to research any possible recalls or complaints from other car owners and determine if there is liability on part of the manufacturer or car seller.
Who Is Responsible for an Accident Due to a Defective Car Part?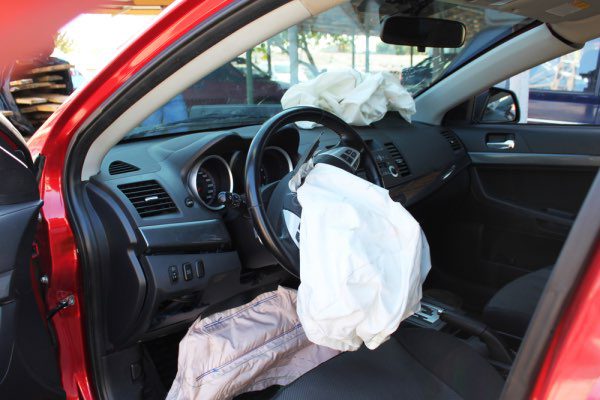 If it is determined that a defective part within either vehicle was the cause of an accident, then a thorough investigation will be done to determine which of the following parties may be held responsible.
Manufacturer of the Vehicle or Car Part
Companies that specialize in making auto parts are responsible to test and ensure the safety of their products. If the part fails due to an issue in the manufacturing process or it was proven that proper safety or quality assurance tests were not performed, then these companies may be found liable for the accident.
Designers of the Auto Part
Sometimes, a manufacturer will make the auto part to the exact specifications but the part can still be flawed. This is due to a flaw in the design of the auto part itself. Flaws from product designs are extremely dangerous as more than one individual will feel the effects of the flaw. This can lead to accidents and widespread product recalls. If the accident you were involved in was caused due to a poorly designed auto part, then the designer may be held responsible.
Marketers of the Defective Part
If the marketer of the defective part failed to include the proper warnings or instructions on how to use the product, they may also be held responsible.
Dealership or the Mechanic Who Has Recently Worked on the Car
In some cases, the mechanic or dealership who worked on the vehicle may have improperly installed the part or installed the wrong type of part. In these cases, the improper service can lead to the dealership/mechanic being held accountable.
The dedicated team at the Hernandez Law Group, P.C. can help you investigate your claim and identify which parties are responsible for your accident. Whether this is the manufacturer, the marketer, the dealership/mechanic, or the designer, we can bring the evidence forth to hold them accountable for damages and medical expenses.
Need a Product Liability or Car Accident Attorney on Your Side?
The Hernandez Law Group, P.C. is a team of highly experienced lawyers who are compassionate with our clients but tough on the responsible parties. We work tirelessly to ensure that you are getting the compensation you deserve, allowing you to get your life back on track. Contact our team today for more information or to schedule a free, no-obligation consultation with one of our caring attorneys to go over your case.